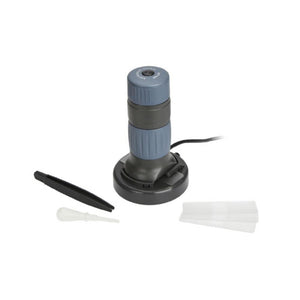 Perks of buying from us
Free Shipping
Lowest Price Gurantee
Trade-in Credit
15-Day Returns
Description/Detail
The zpix 300 mm-940 from carson is a powerful 2-megapixel zoom USB digital microscope that displays a magnified image right on your computer screen.
The impressive 86x-457x power zoom magnification allows you to see details of ordinary objects that you never knew existed!
Capture an image to keep with the click of a button. You can even capture close focus video and send it to your friends and family. Use the base attachment to view prepared slides or remove the base and place the microscope on any surface to reveal extremely fine details.
The zPix 300 USB digital microscope will provide hours of fascinating and educational entertainment for adults and children alike.
The latest version of the zPix 300 MM-940 Zoom Digital Microscope is compatible with the following: Mac OSX 10.4.9 - 10.10.x, PC with Windows XP, Windows Vista, Windows 7, Windows 8, Windows 8.1 and Windows 10. A USB 2.0 port is required.
*DOES NOT WORK WITH TABLETS *
Magnification Range: 86x-457x