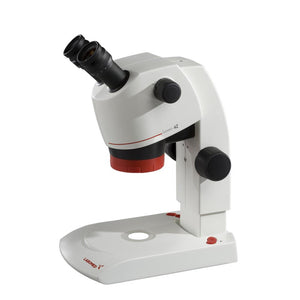 Perks of buying from us
Free Shipping
Lowest Price Gurantee
Trade-in Credit
15-Day Returns
Description/Detail
The Luxeo 4Z reflects high-performance engineering with a super bright and white light emitting diode (LED) illumination system, superb optics, and a single-cast durable construction.
The Luxeo 4z meets the needs of modern biology programs, and host of quality control and routine inspection applications.

Luxeo 4Z Advantages:
The +/- 30 degree LED ring light will allow the user to reduce the surface glare from reflective topographies for true LED Oblique Illumination.
To ensure accurate color reproduction, excellent depth focus and superior resolution the Luxeo 4Z has Hi-precision plan optics and superior coating.
Another advantage is that the Luxeo 4Z has a smooth focus control and a fluid 4.4:1 Greenough zoom system that guarantees stress-free operation with minimal wear to gears, all of which are made of high-strength steel.
Includes integrated stand with LED technology for transmitted and incident illumination, continous zoom for 8X to 35X magnification, and compact platform for easy storage
Focussing Eyepieces: True
Compact Base: True
Cord Wrap
N/A
Dust Cover
Included
Eyepieces
10x integrated
Illuminator
LED Illuminator
Lamp Life
25,000 hrs