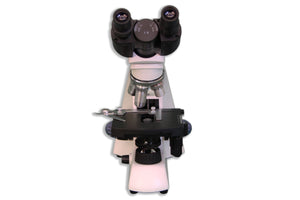 Perks of buying from us
Free Shipping
Lowest Price Gurantee
Trade-in Credit
15-Day Returns
Description/Detail
The MT Educational Series Compound Microscopes have crisp, erect images over a wide field of view.
Ergonomic Hand Grip for portability and ease of storage. Low positioned Ergonomic Coaxial Focus Control, Abbe condenser, N.A. 1.25 with iris diaphragm lever for height adjustability. Revolving Quadruple forward-facing nosepiece on ball bearings with achromatic DIN Semi Plan Standard 4x, 10X, 40X, 100x objectives.
Anti-Fungus treated optical parts for mold prevention and LED variable intensity illumination generating even illumination and low electrical consumption.
These student microscopes are built to last, year after year. Just perfect for grade schools and high schools!
This microscope comes equipped with a rechargeable battery which makes it cordless when in use, it's the perfect microscope for field experiments.
The microscope can be used by hobbyist, Middle School, and High School Laboratories
Achromat Objectives
4x, 10x, 40x, 100x
Battery
yes
Dust Cover
Included
Eyepieces
10x integrated
Head Style
Binocular
Illuminator
Bright LED Illuminator
Lamp Life
25,000 hrs
Stand
RH Stand
X/Y Stage
Mechanical X, Y Stage