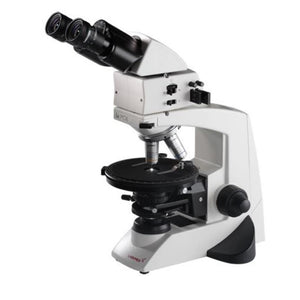 Perks of buying from us
Free Shipping
Lowest Price Gurantee
Trade-in Credit
15-Day Returns
The highly streamlined Lx POL polarizing microscope delivers reliability and comfort through precision opto-mechanical engineering.
Tight design tolerances with the SF (strain-free) optical series produce near-zero optical impurity interference. Careful attention to the sub-stage polarized extinction disc and individually center able objectives yield a highly controlled light path with respect to stage orientation, and ultimately a sharp contrast image.
The Lx POL polarizing microscope comes equipped with LABOMED MaxLite™ coated optics, a sputtered hard coating technology that delivers a research grade of anti-reflective and scratch resistant properties.
For precise conoscopic imaging, an integrated analyzer/Bertrand lens module provides individual flip-in/flip-out of the analyzer and Bertrand lens, with a conveniently located focusing dial. Centration of the Bertrand lens is achieved through easy-access front mounted centering screws. A large circular stage with two locking brakes is provided, delivering a smooth 360 degrees of rotation.
An optional 100x objective further complements the SF series of strain-free optics, ensuring no optical impurities interfere with polarized light. A fixed verticality crosshair is a standard feature, maintaining its orientation as IPD is adjusted.
Two compensator plate slots and two centering tool slots are located onboard the analyzer/Bertrand lens module to prevent unwanted loss of accessories. The microscope comes equipped with ?, 1/4 ?, and Quartz-Wedge plates.
Optional Trinocular and Digital Camera Versions available - Please Contact Us
Installation Guide
Achromat Objectives
4x, 10x, 40x
Dust Cover
Included
Eyepieces
10x
Head Style
Binocular
Illuminator
LED
Lamp Life
100,000 hours
Stand
RH Stand
X/Y Stage
Rotating POL Stage