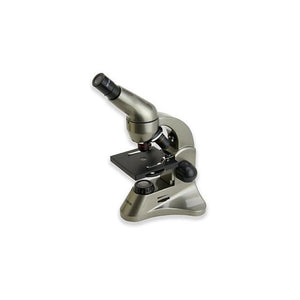 Perks of buying from us
Free Shipping
Lowest Price Gurantee
Trade-in Credit
15-Day Returns
Description/Detail
The MS-040, 40-400X Microscope is an entry-level Biological Microscope that is ideal for a student or family.

The Microscope has a monocular head, at 45 degree angle for comfortable viewing, and is rotatable 360 degrees for easy sharing of the specimen view.
Illumination is provided by two bright white LED sources (transmission and reflection) which allow viewing of wide range of transparent to opaque specimens. It features a filter wheel with 5 color options. The included AC power adaptor allows for use internationally without the need for a voltage transformer.