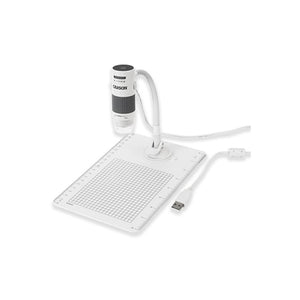 Perks of buying from us
Free Shipping
Lowest Price Gurantee
Trade-in Credit
15-Day Returns
Description/Detail
The MM-840 eFlex is a powerful digital microscope that displays the magnified image right on your computer screen. The impressive 75x/300x magnification allows you to see details of ordinary objects that you never knew existed!
Capture an image to keep with the click of a button. You can even capture close-focus video! The included flexible neck stand with suction cup adapter attached to any smooth surface, or included graduated base with ease.
Max Picture Resolution: 1600 x 1200 pixels.
Max Video Resolution: 640 x 480
Latest version is compatible with Windows XP SP2 or above, Windows Vista (32 bit or 64 bit), Windows 7 (32 bit or 64 bit), Windows 8, Windows 8.1 and Windows 10. Mac OS X 10.4.9 - 10.10.x. A USB 2.0 or 3.0 port is required. No batteries required.

 

*DOES NOT WORK WITH TABLETS *
Magnification Range: 75x-300x