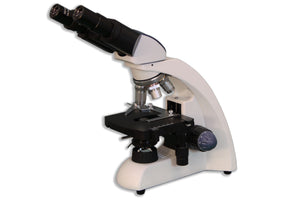 Perks of buying from us
Free Shipping
Lowest Price Gurantee
Trade-in Credit
15-Day Returns
Description/Detail
The MT-30 Series Compound Microscope is Meiji's best buy for an Advanced student microscope, it is affordable and portable, doesn't get any better than that!
The MT Advanced Student Series Compound Microscopes have crisp, erect images over a wide field of view.
Rechargeable batteries, the cordless feature enables use of the instrument without an outlet.
Ergonomic Hand Grip for portability and ease of storage. Low positioned Ergonomic Coaxial Focus Control, Abbe condenser, N.A. 1.25 with iris diaphragm lever for height adjustability. Revolving Quadruple reverse nosepiece on ball bearings with achromatic DIN Semi Plan Standard 4x, 10X, 40X, 100x objectives. Anti-Fungus treated optical parts for mold prevention and LED variable intensity illumination generating even illumination and low electrical consumption.
These proven, durable microscopes will withstand the constant scratching, battering, student wear and tear a student microscope endures from day to day use.
These student microscopes are built to last, year after year. Just perfect for grade schools and high schools!
Achromat Objectives
4x, 10x, 40x, 100x
Battery
Yes
Dust Cover
Included
Eyepieces
10x integrated
Head Style
Binocular
Illuminator
Bright LED Illuminator
Lamp Life
25,000 hrs
Stand
RH Stand
X/Y Stage
Mechanical X, Y Stage