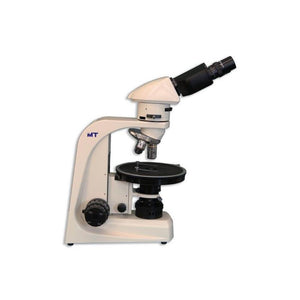 Perks of buying from us
Free Shipping
Lowest Price Gurantee
Trade-in Credit
15-Day Returns
Description/Detail
The Meiji MT9200L is a Binocular LED Transmitted Light Polarizing Microscope with transmitted LED illumination is an investigative tool for isotropic and anisotropic materials.
Newly improved strain-free 8 Infinity Corrected Objectives ICOS Optical System and Abbe condenser. Transmitted LED Koehler illuminator and ceramic coated, 175mm diameter, ball bearing, circular rotating stage graduated 360°, with 1° increment and vernier reading to 0.1°. Intermediate tube with built-in analyzer and compensator slot and rotatable polarizer with full-wave plate.
A perfect instrument for geology, petrology, mineralogy, forensics, material science, manufacturing, crystallography, medical research, environmental science and industrial quality control and quality assurance applications.

Detailed Specifications:
Binocular head - Siedentopf type, inclined at 30°degrees with reticle angle compensation, Interpupillary adjustment 53mm to 75mm, graduated diopter on left eyetube. (23.2.0 mm I.D. eyetube).
Super Widefield compensating KHW10X, focusing eyepiece with cross-line and guide pin, F.N. 20 are standard with 21mm reticle mount (Tube O.D. 23.2mm).
KHW-10X Compensating eyepiece, F.N. 20 (each) (Tube O.D. 23.2mm) (qty#1).
Strain free Plan objective 4X/N.A.0.10, W.D. 25.89mm, 10X/N.A.0.25, W.D. 7.3mm, 40XS/N.A.0.65, W.D. 0.72mm, 8 Infinity Corrected Objectives.
Strain free Abbe condenser, N.A. 1.25 with iris diaphragm and dovetail mount.
Rotatable stage with Vernier graduation 360° with Vernier, reading to 1°, 150mm diameter with stainless steel stage clips (Factory Installed).
Coaxial coarse and fine focusing controls with graduation reading 2 microns power division. Incorporates tension adjustment and safety Auto-focus stage stop lever.
Stainless steel Stage Clips (qty#2).
1/4 Wave-length test plate (Mica 147.3nm) for MT9000 Series (20mm x 6mm x 80mm)
First-order red compensating plate for MT9000 Series (20mm x 6mm x 80mm) (530nm, also called Gypsum or Sensitive Tint Plate).
Analyzer in sliding mount for MT9000 Series (26mm x 6mm x 80mm).
Blue clear filter, 29.8mm diameter, unmounted, for transmitted light.
3W LED Bulb, 5500K color temperature (Factory-installed in LED models).
Nosepieces centering screws (each) (qty# 2). Dust cover for MT9000 Series.
Trinocular version available - Please Contact US 
Dust Cover
Included
Eyepieces
4x, 10x, 40x
Head Style
Binocular
Illuminator
Bright LED Illuminator
Stand
Strain Free Koehler
X/Y Stage
Circular POL Stage